In September 2021, Australians in certain states were spending more on solar power systems, but they were still receiving a good deal given the benefits of solar energy.
Here's how September compares to August, as well as September last year. After all discounts and credits, the average cost per watt is for fully installed installations (all system capacity).
State 
Cost per watt
(September 2021)
Cost per watt
(August 2021)
Cost per watt
(September 2020) 
QLD
 $0.89
 $0.89
 $0.90
NSW
 $1.02
 $1.02
$0.99
ACT
 NA
 NA
$1.15
VIC
$0.91
$0.88
$0.81
TAS
 $1.14
 $1.09
 $1.21
SA
 $0.95
 $0.90
 $0.90
WA
 $0.81
 $0.74
 $0.73
NT
 NA
 NA
 NA
AU
 $0.95
 $0.91
$0.91
And here's a graph showing the nationwide cost-per-watt scenario since October 2019: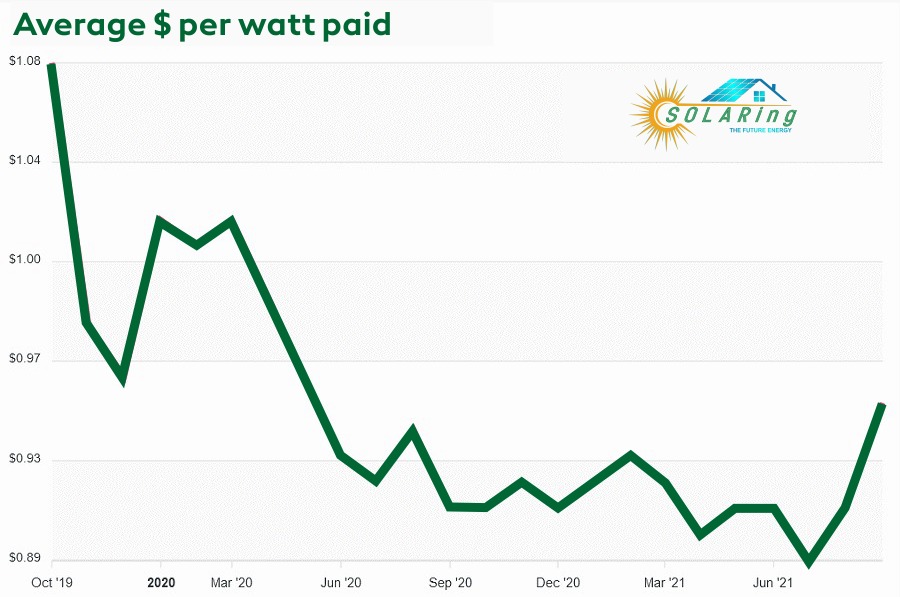 Prices for 6.6kW Solar Power systems, which are now considered starting grade, are as follows: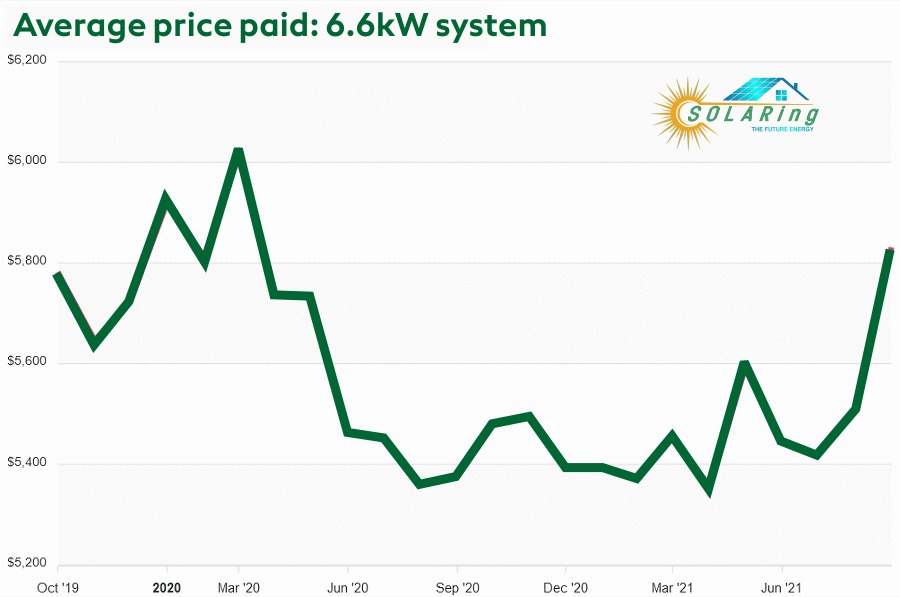 This data comes from the Australian Solar Price Index. It's an engaging tool that displays typical pricing for rooftop solar power system installations in each Australian state/territory and nationwide over time, dating back a few years.
One of the tool's most intriguing features is the ability to dig down and check prices on multiple system sizes, as well as systems with particular brands of solar panels and inverters.
Why Are Solar Power Prices Rising in Some States?
Prices appeared to remain fairly steady in QLD and NSW in September, but in the other states, they began to rise — and QLD and NSW are expected to follow suit. The Australian solar sector is now in a difficult situation due to a variety of difficulties that are producing a solar panel supply constraint.
Prices for silicon and other materials have risen dramatically, as have transportation expenses. Panel supply from China is tighter owing to local demand taking precedence and several areas encountering issues with electricity supply, creating production interruption.
We've heard that in China, panel price is now determined by the 'spot rate' which is when panels are picked up from the factory rather than when they are ordered. This may make pricing systems problematic, especially because many installers don't have large margins, to begin with.
Not only is there increased pressure on panel prices, but there has also been some murmuring of price rises for solar inverters. And in both situations, it's not only Chinese-made components.
Price rises are expected to persist while the supply chain is sorted out. High Solar Power prices won't last forever, but how long is anyone's guess given the numerous estimates.